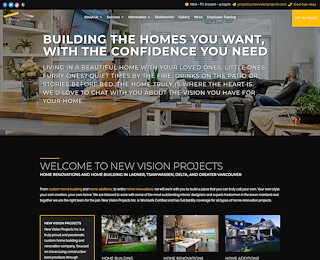 New Vision Projects offers professional home renovations in the Delta area for homeowners looking for options in remodels. Their passionate and dedicated team provides their clients with the best products and services possible, allowing you to stay on schedule- and on budget.
What kind of home renovation do you have in mind? Whether interior or exterior home renovation to your Delta home, single room, full house, additions or a new construction, New Vision Projects excels at all. More and more homeowners are discovering the financial benefits of a home renovation versus a new build; and the benefits go far beyond saving money:
– Most likely the greatest advantage of a home renovation is that you can greatly increase the value of your home. Upgrading and renovating what is almost certainly your largest investment is a profitable decision that will pay real dividends through the years, especially if you should decide to sell. New Vision Projects can help you look at a home renovation through a future buyer's eyes.
– A bathroom remodel has the ability to create comfort and safety for aging homeowners, allowing them to stay at home independently and safely. Depending on the level of upgrade you're willing to undergo, you can create an oasis through improved lighting, easier tub and shower access and updated finishes that will go far in adding real value to your home that a buyer will see instantly.
– Homeowners love outdoor living spaces that allow them to enjoy their backyards like never before. If you love to entertain, consider a deck, patio or even an outdoor kitchen that will make it enjoyable to cook outside and spend time with friends and family. Adding outdoor space onto your home creates the illusion of a larger living space. New Vision Projects will be happy to let you know what your options are when it comes to exterior home renovations in the Delta area.
– Renovations often involve using low maintenance products which make homeownership less time consuming and more cost-efficient over the years. As well, these products improve the curb appeal of homes and raise their value in the market.
– Added storage space in a home can declutter and make your existing spaces that much more enjoyable to live in. Few homeowners consider the value of simply providing more storage for items that are not used day in and day out. Through better organization, time saved often equates to money saved and there's nothing quite like being able to find things when you want them.
– If you're thinking about putting your home on the market, you'll sell your home faster and at a higher price after a renovation.
Contact an expert from New Vision Projects by calling 604-690-1694 for home renovations throughout Delta and beyond. Speaking with a specialist can help you gain valuable insight into your remodel and can help put you on the right path as far as what type of projects will add value to your home and improve livability. home renovations Delta